Multifunctional Magic: Maximizing Space in a Home Office and Guest Room Combo
If you're someone who works from home and also has guests to accommodate, you know the struggle of balancing the two. A dedicated guest room can often mean sacrificing precious office space, and vice versa. But fear not! There are ways to create a multifunctional room that serves both purposes without sacrificing style or functionality. In this article, we'll explore some tips and tricks for maximizing space in a home office and guest room combo.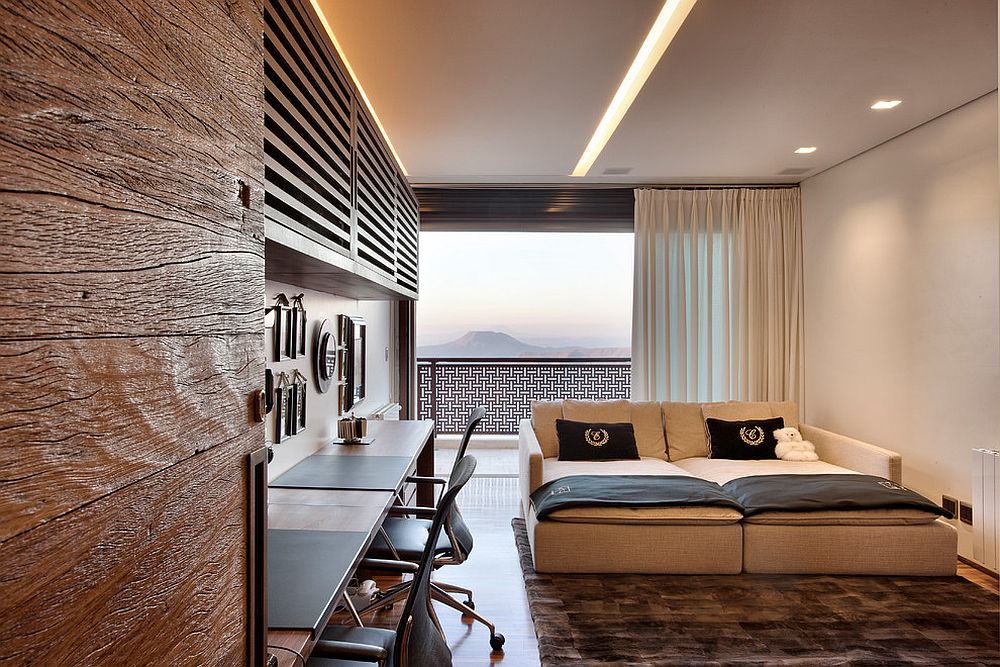 A Room for Everything: Creating a Home Office and Guest Room Combo
The first step in creating a multifunctional room is to determine the layout. Ideally, you want to have a designated workspace, as well as a comfortable sleeping area for guests. Depending on the size of the room, you may need to get creative with the placement of furniture. Consider utilizing corners and vertical space to maximize the area.
Another important consideration is the type of bed you choose. A traditional bed takes up a lot of space and may not be practical for a dual-purpose room. A Murphy bed, on the other hand, can be folded up and out of the way when not in use. Alternatively, a daybed can double as a sofa during the day and a bed at night.
Space-Saving Solutions: Multifunctional Furniture and Decor
When it comes to furnishing a dual-purpose room, multifunctional furniture is key. Look for pieces that can serve multiple purposes, such as a desk that doubles as a nightstand or a storage ottoman that can be used as a seat. Wall-mounted shelves and cabinets can also provide additional storage without taking up valuable floor space.
In terms of decor, keep things simple and streamlined. A cluttered room will feel cramped and chaotic, whereas a minimalistic approach will create a sense of openness. Focus on functional pieces that also add a touch of personality to the room. For example, a colorful rug or a statement wall hanging can bring some life to an otherwise utilitarian space.
Dreamy Design Ideas: Stylish and Practical Room Inspiration
When it comes to design, don't be afraid to get creative! A home office and guest room combo can be just as stylish as any other room in the house. Consider incorporating a bold accent wall or a unique light fixture to add some personality. If you're short on space, consider a built-in desk or a floating shelf to create a sleek and modern look.
Another great way to add some style to the room is with textiles. A cozy throw blanket or some patterned pillows can make the space feel more inviting and comfortable for guests. Just be sure to choose fabrics that are durable and easy to clean, as they may need to withstand frequent use.
Welcome Guests with Ease: Tips for Preparing a Dual-Purpose Space
When it's time to host guests, there are a few things you can do to make their stay more comfortable. Clear out any clutter and make sure there's plenty of storage space for their belongings. Set out fresh linens and towels, and provide extra blankets and pillows in case they get chilly.
If possible, try to create some separation between the workspace and sleeping area. Use a room divider or a curtain to create a sense of privacy for your guests. And don't forget about lighting! Make sure there are bedside lamps or overhead lights that can be adjusted to create a cozy and welcoming atmosphere.
Conclusion
Creating a multifunctional room that serves as a home office and guest room may seem like a daunting task, but with a little creativity and planning, it can be done. By utilizing space-saving solutions and incorporating stylish design elements, you can create a room that is both functional and inviting. And with a few thoughtful touches, you can welcome guests with ease and make their stay as comfortable as possible.